Many purposes – one headset
iriComm 3.0 is specially developed and designed for  use by a helicopter rescue swimmer.
Takning into consideration waterproofing for seawater and RX /TX in extremely loud surroundings. During  development a couple of other useful features have been added. Today iriComm 3.0 is a unique multi functional tool which combines high quality sound with user friendly controls among many other features.
A rugged waterproof headset with superior sound quality. Loud and clear TX up to an impressive 142 dB. Built-in LED light with 3 modes and Hear-Through function ( situational awareness ).
Comes as regular headset for PAX but fits Inside GENTEX Alpha, LD Projects or on the Arc-Rails on Team Wendy and Ops-Core as well.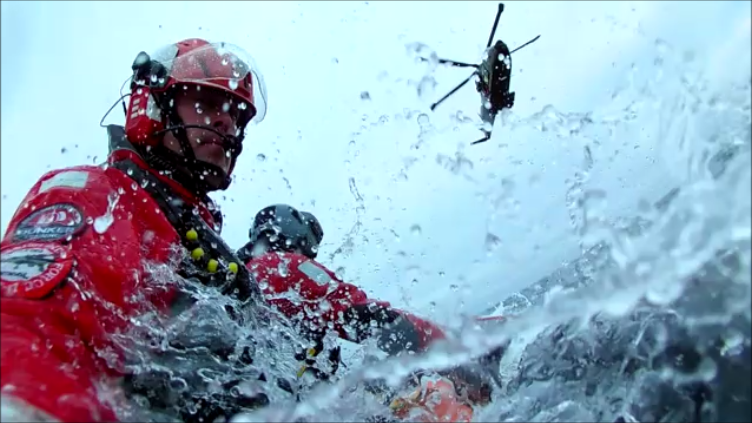 Pilot
Whether you wear GENTEX Alpha or LD projects, iriComm 3.0 fits perfectly inside and is very easy to install. A helicopter pilot helmet will always be powered by the internal 28 Volt supply so the optional ANR will be powered from there.
Hoist operator
The hoist operator is constantly communicating with both the pilots and the rescue swimmer. Much time is spent with the head outside the cabin. In this situation outstanding sound quality is required as High Quality Audio will work as a filter for the brain, and RX is much easier to understand.
Many Hoist Operators use a Throat microphone to avoid  wind noise. Vowels are produced in the mouth, and a throat microphone will never produce the same wideband speech as a ordinary boom microphone.
Depending on operations iriComm 3.0 can be fitted with our standard High Quality Microphone or it can be connected to the original GENTEX boom with either GENTEX original Acousticom. IWCS can fit an even better wind protected microphone if required.
Rescue Swimmer / DOC
For any Rescue Swimmer iriComm 3.0 is hard to avoid. Especially designed and developed for this purpose, iriComm 3.0 is the perfect choice.
Now a Rescue Swimmer can hear everything communicated in the helicopter, as long as he wears his helmet. Standing on a vessel, the rescue Swimmer would normally take off his helmet to be able to speak with the on-board crew ( patients ). Not anymore. iriComm 3.0 has an optional PLUS package where a Hear-Through function allows the user to keep wearing his helmet, while still being able to hear the people in front of him. While using this feature the external radio isn't cut off, but just reduced by 24dB.  Allowing the user to follow the communication in the helicopter without being distracted when talking to the on-board crew.
Tactical
The major issue working in Tactical Operations from a helicopter is speaking with your head (microphone) outside the cabin while flying at speeds exceeding 120 knots. There is a big difference between loud noise and wind noise and therefore iriComm 3.0 can be connected to various versions of microphones for optimizing the output according to the use.