17 SUSTAINABLE DEVELOPMENT GOALS
The Sustainable Development Goals are a universal call to action to end poverty, protect the planet and improve the lives and prospects of everyone, everywhere. The 17 Goals were adopted by all UN Member States in 2015, as part of the 2030 Agenda for Sustainable Development which set out a 15-year plan to achieve the Goals.
Today, progress is being made in many places, but, overall, action to meet the Goals is not yet advancing at the speed or scale required. 2020 needs to usher in a decade of ambitious action to deliver the Goals by 2030.
IWCS and Sustainable Development Goals
The United Nations sustainable development goals are something we take very seriously at IWCS. The UN goals are here to stay, and we are happy that they are. Our world is our biggest gift, and it is up to us as companies and individuals to pick up the gauntlet and protect and serve it as best we can. 
Even though some goals are as of now irrelevant to IWCS' production methods and spheres of influence, lets focus on what we can and will do to lift our share of the burden. 
Some things are second nature
Some UN sustainable development goals have been second nature for us and have been a part of our company ethics from the beginning. Though we are already doing a lot within these areas, it does not mean there's no room for improvement. We will always strive to further better our company's ethical standards. Let us look at where we have already made a difference so far.
Decent work and economic growth
In development goal 8 the UN writes '…Sustainable economic growth will require societies to create the conditions that allow people to have quality jobs that stimulate the economy while not harming the environment. Job opportunities and decent working conditions are also required for the whole working age population…'
IWCS has since the beginning understood two things. That we want and need the best employees and that it is also our responsibility to help educate the next generation of these employees. IWCS has had several interns as well as individuals in work placement every season since the launch of our company. We pride in giving them the training and education needed to be the professionals of the future, within IWCS' ranks or otherwise. We feel honored to carry our share of the responsibility of training tomorrows workforce, for the good of the collective.
Not only do we open our doors to new coworkers and interns, but we make sure their stay with us is a good one. We hire new colleagues irrelevant of creed, sex, color, religion, or sexual orientation. We appoint solely based on skill and a demonstrated desire to grow and learn. We offer fair pay for a reasonable workload. Pay and conditions which are at a minimum in keeping with the very fair Danish-Unions employment guidelines. We also insist on upholding an equal pay between the sexes. All IWCS employees are offered medical insurance, pension, paid vacation, and pay during sick leave. They are given access to courses such as the epoxy-use safety course to keep them growing and moving forward. Our employees are the foundation of our company, and their well-being is synonymous to IWCS' well-being.
IWCS head office is bright and well ventilated. Insulated and heated to keep the Danish chill out, and our staff toasty. We rank hygiene high at IWCS. Both regarding personal hygiene, but also within the office itself. We hold a clean house to keep our employees and ourselves fit and happy. 
Responsible consumption and production
UN writes '…Sustainable consumption and production is about promoting resource and energy efficiency, sustainable infrastructure, and providing access to basic services, green and decent jobs and a better quality of life for all….'
To understand our CO2 footprint, one must look at the quality and mileage that one can obtain from our products. IWCS intercom systems are built to last and have very long working lives. The CO2 footprint of professional products that do not need to be replaced often is significantly less than disposable consumer goods. IWCS does not build only for trend, we build for functionality and reliability to be used in all conditions, day, after day, after day.  
On the home front IWCS headquarters is equipped with LED bulbs for all main indoor lighting needs. Electricity for PCB soldering is sourced from wind-mill energy. Our products are built with low energy consumption in mind. Any waste is disposed of or recycled responsibly and in accordance with the strict Danish recycling and waste management laws. This includes cardboard, batteries, and plastic, as well as surplus power from our power grid. Chemical use is at a minimum, and storage and disposal of these substances are also fully in accordance with Danish workplace regulations. Our packaging needs are largely met using recyclable packaging materials. 
We use lead free wire for our PCB soldering, and our technician's worktables are equipped with effective ventilation to guarantee their well-being and work-related health, for many years to come. All ventilation exhaust is filtered through industrial carbon filters before being released into the atmosphere. 
Last But Not Least IWCS is a member of the Danish initiative Elretur which is a union of importers and manufacturers of electrical equipment, that take a common responsibility in making sure that their electrical equipment is disposed of correctly when its working life is exhausted. 
The Future of our Sustainability
We have discussed where we are, but how about where we want to be. IWCS has taken two of the sustainability goals under their wing and made them our personal company goals for the future.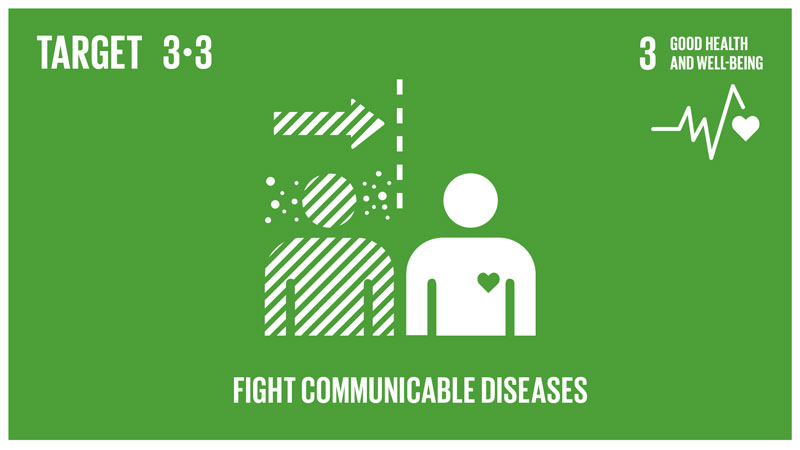 Fight Communicable Diseases

By 2030, end the epidemics of AIDS, tuberculosis, malaria and neglected tropical diseases and combat hepatitis, water-borne diseases and other communicable diseases.
Inspired by the onslaught of Corona Virus 19 IWCS has decided to incorporate strict hygienic standards to limit the spread of current and future air and contact bourne virus and disease within our sphere of influence.
We at IWCS believe that we can with steady and sustainable economic growth increase our number of employees and thereby the number of people that can enjoy the safety and comfort of regular paid employment. We are very aware with the recent developments of CV19, of how important keeping our employees healthy is to themselves, and to the company.
We always uphold a high standard of etiquette at IWCS, but during times of heightened infectious awareness we do not shake hands. At least not without first using the disinfectant that is available several places on the walls of the IWCS building. We wash our hands before all meals, and after using the restroom. When employees are sick, we encourage them to stay home for as long as it takes to be completely free of symptoms, before returning to the workplace.
We also advise employees during times of infectious risk to exert caution in public spaces, and when using public transport.
Implement the 10-Year Sustainable Consumption and Production Framework
Implement the 10‑Year Framework of Programs on Sustainable Consumption and Production Patterns, all countries taking action, with developed countries taking the lead, taking into account the development and capabilities of developing countries.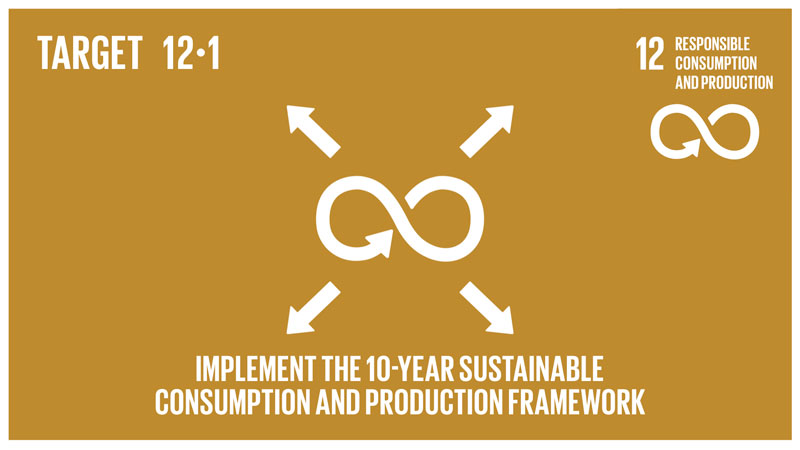 IWCS has taken a stance on sustainable consumption and production. We have created a requirements specification document for all our suppliers informing them on our position in reference to the Goals, and our expectations from them. They will be required to fill an enclosed checklist chart within this requirements specification document, so that we can map their pledges. We will carry out yearly audits to make sure they are living up to them. We trust and respect our suppliers and see these actions as necessary measures. Helping to increase cooperation between our companies to strengthen our common future.
We do not only look backwards in the supply chain, but we also look forward towards our distributors and users. Information on the previously mentioned mapped consumption, will be sent to our distributors. Instilling confidence within them that we are taking our responsibilities seriously. Furthermore, we also expect both our distributors and our users to be inspired by this initiative to take their own precautions regarding waste disposal and energy usage.
We can't wait to continue our Sustainable Goals work.
We can't save the world alone but if we lift together we can help move the mountain.
Bringing all of us closer to a future that we can be proud of.